Truck Packages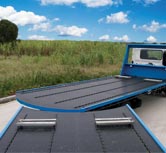 Take advantage of Bozmac's complete Truck Package Service. As a licenced motor dealer and not limited to particular makes or models, Bozmac offers a range of complete drive away truck packages to suit your business demands.
Truck packages can include chassis modifications and extensions, lazy and pusher axles including lift up (retractable), all steel fabrication, electrical, hydraulics, paintwork and sign-writing undertaken in Bozmac's state of the art facilities. In the event of collision repairs, Bozmac offers a fully equipped truck 'Mayrack' and spray booth for trucks up to 15 metres in length.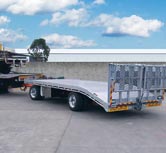 Trailers are available in 1,2 and 3 axle Tag and Dog configurations, in both spring and air suspension, all jig built to the same exacting Bozmac standards.
Bozmac is a fully authorised sales and service agent for Palfinger truck cranes and can equip your truck with any make of crane.
A diverse range of accessories can be sourced and installed to your truck to deliver a performance edge. Talk to the team at Bozmac to develop the custom inclusions you need to get the most out of your vehicles.